About us and what we do…
Being a small management and vacation rentals firm allows us to provide a personalized service. This also gives us with the opportunity to offer an all-inclusive property management service, or a customized management package according to your specific needs.
We produce a high number of vacation rentals for our owners through various marketing tools and channels. Also, our goal is keep our maintenance expenses low without having to sacrificing service quality.
Our Experience.
With a combined fithteen years of experience in customer service, sales and general business management, our team will provide you with the service you deserve.
The Team
Brian Flores
General Manager/Owner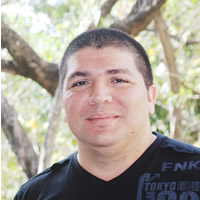 Born in Golfito in the South Pacific region of Costa Rica and grew up in New Jersey, USA where he lived most of his childhood and teenage years.
As a young adult, he returned Costa Rica, to his toots where he became involved in the hospitality industry, joining the Hacienda Pinilla Beach Resort and Residential Community, where he gained experience property management and vacation rentals department doing sales for the homes and villas with the homes and villas and former La Posada Hotel.
He later left Hacienda Pinilla to join the prestigious JW Marriott Guanacaste Resort & Spa, where he was part of the reservations department in Rooms Division, where high quality service is an absolute requirement.
Later he decided it was time to put all the acquired knowledge and experience in customer service and sales into property management, and tha's when he became part of Coastal Property Management, where after 3 years he decided it was time to start his own property management business and put all the knowledge, experience and passion he possed into his new project and founded Rentals By The Beach.
Brian likes to spend his free time with his wife and two daughters at the beach or exploring the country side of Costa Rica. He also enjoys reading, traveling, mountain biking and doing sports.
You can contact Brian in English and Spanish
Alejandra Zamora
Operations/Reservations
Born in Guanacaste, Alejandra started her career in the hospitality industry in the former Hotel La Posada under Jaime Montero's management, she quickly showed skills and passion for service which lead her to become Front Desk Manager where she performed greatly. After almost 4 years she decided to step back and focus on personal projects that now make her a crucial member of Rentals By The Beach, bringing all her experience in customer service and management to the table and benefit of our clients.
You can contact Alejandra in English and Spanish